Chocolate Cocoa Pod with Assorted Chocolates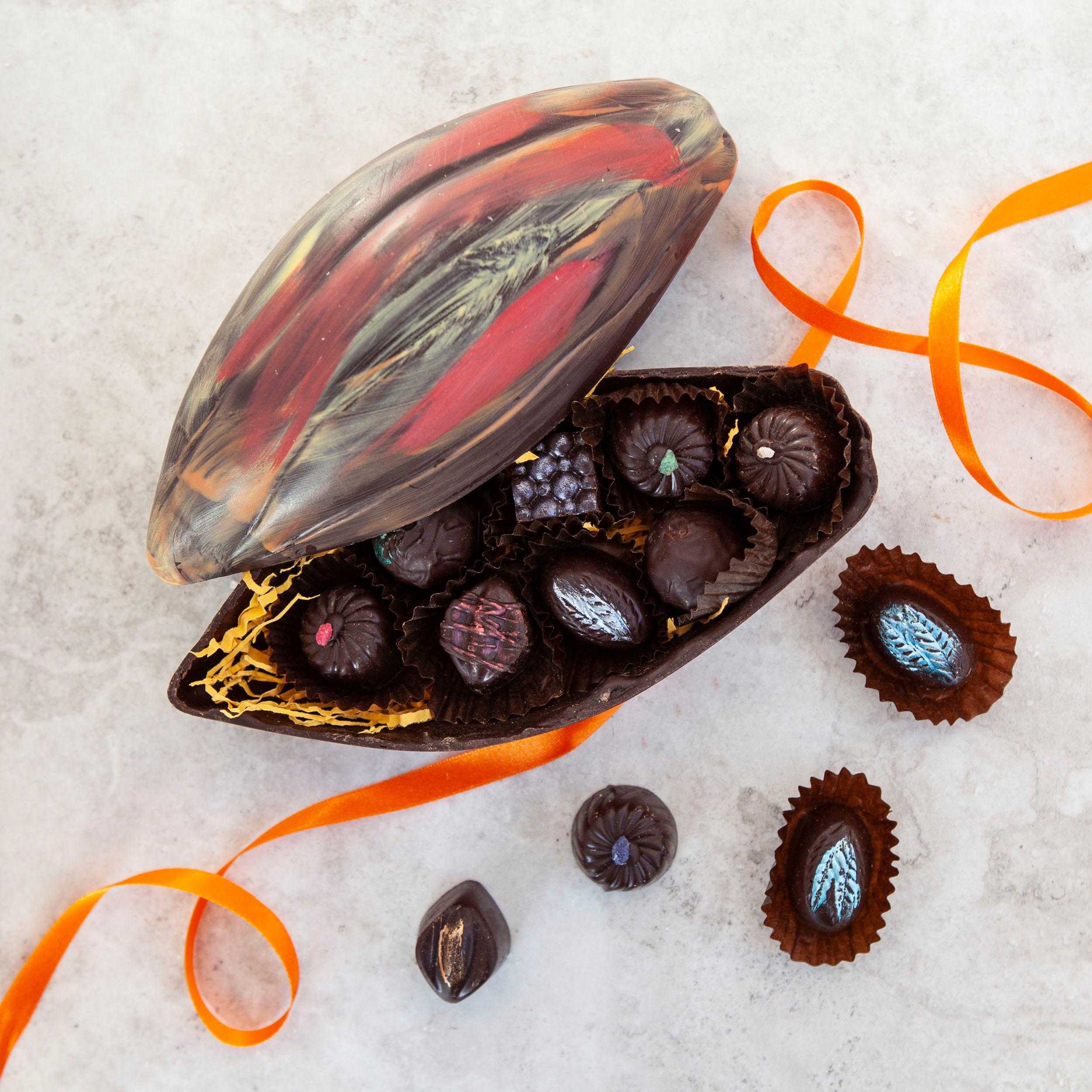 Chocolate Cocoa Pod with Assorted Chocolates
A beautiful handmade chocolate cocoa pod gift box filled with 12 of our fresh chocolates. 
Some of our best selling flavours are: Sea-salted Caramel, Mint and Maple*, Nicaragua*, Tanzania, Tonka, Cardamom, Ginger, Peanut Butter, Whole Hazelnut, Lemon, Raspberry, Champagne, Tequila-Lime*, Vodka Cherry, Rose and  Geranium Creams.  
* Academy of Choclate and Great Taste Award winners.
Dairy free, suitable for vegans. 
Shelf life & storage:
Made fresh with no artificial ingredients or preservatives, so eat as soon as possible, preferably within two weeks. Best enjoyed fresh at room temperature. Store in a cool, dry place.
Each cocoa pod is individually hand-decorated, so no two are identical. Colours, shades and patterns will vary.
These chocolate cocoa pods are fragile, so you will receive yours in a box safely tucked up in food safe, eco-friendly and decorative shredded paper.

Add a gift message:
Use the "Message" section below to add your personal message. We will print this on our complimentary card, and include it with your gift free of charge.


You may also use this message section to let us know about your preferences, e.g. no nuts, or alcohol, etc.
Nutritional values of individual truffles, shelf life and storage instructions are listed on the About Our Chocolates page.
Earn

0

reward points
COCOA POD
DELIVERY & RETURNS
Learn how to edit the text in this section by looking at your theme's notes section.