Single Origin Chocolate Bars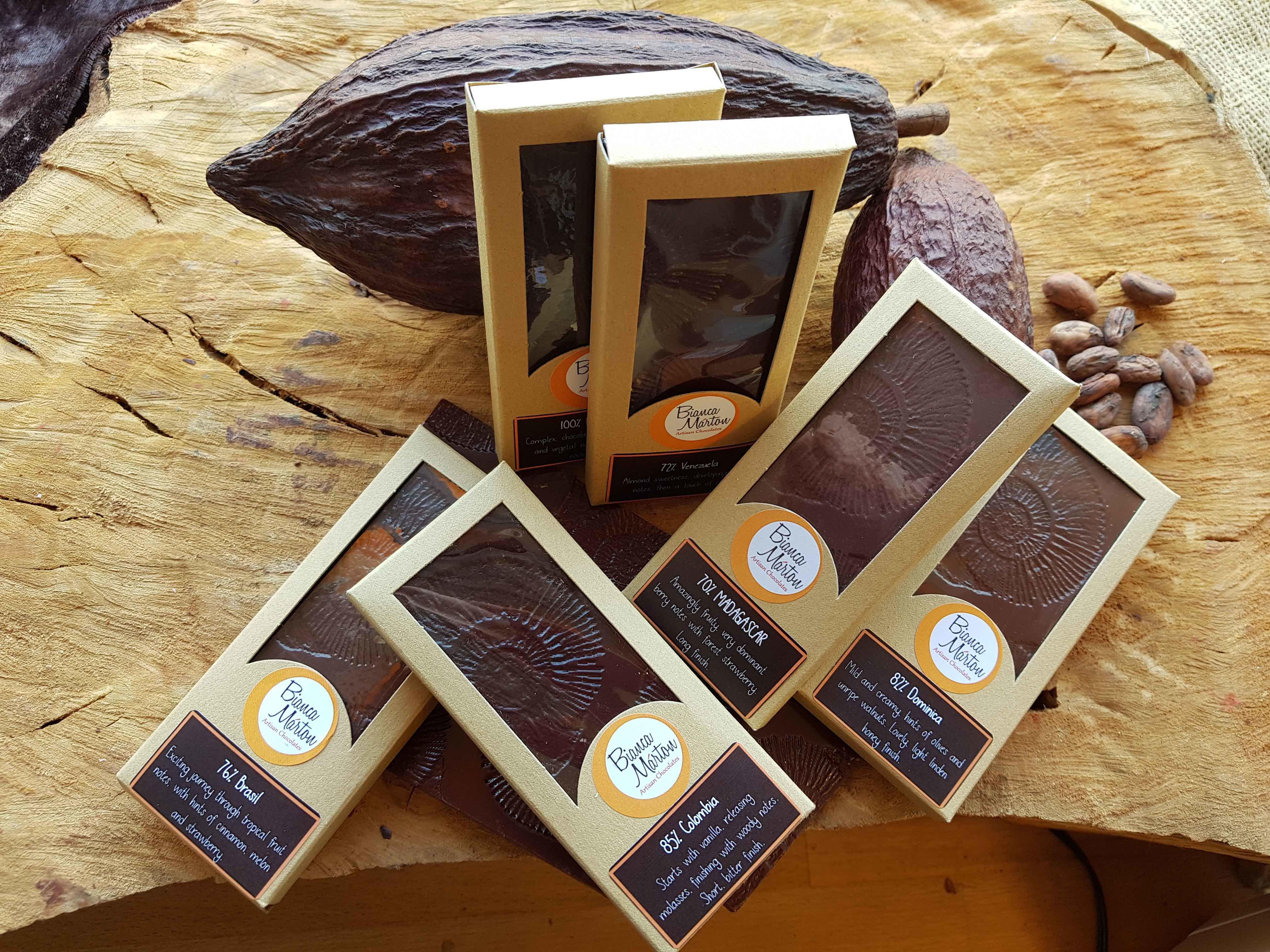 Single Origin Chocolate Bars
Classic chocolate bars with an important difference: each pack contains two bars of instead of the usual one. We've gone the extra mile to give you two thin bars instead of a thick one. This helps you to make the most of your chocolate experience while still enjoying this classic chocolate presentation.
Choose from our range of chocolate bars:
100 Madagascar

*

: This chocolate is a rare find. Light, fruity, brings up memories of cantaloupes, it finishes with a strong, slightly bitter taste - just to remind you, that this is a serious no-sugar, pure, 100% chocolate.


100% Dominica

*

: For people who love serious chocolate. These tablets made of 100% Dominican dark chocolate will give you complex flavours with olive, nutty, and vegetal notes. Long lasting cocoa finish.


85% Colombia: With 85% cocoa content, this is a strong chocolate. Yet it is surprisingly sweet and easy to enjoy. It starts with vanilla flavours, releasing darker molasses, and finishing with woody notes. 
(Contains soya lecithin)


82% Dominica

*

: A mild and creamy chocolate, with hints of olives. An earthy, well balanced chocolate with a light, honey-like finish.  


76% Brasil

*

: This Brazilian 76% single origin organic dark chocolate will take you on an e

xciting journey through tropical fruit notes, with hints of cinnamon, melon and strawberry.




75% Tanzania: Chocolaty, with a mousse-like creaminess. Slight acidity, developing darker, bread-like tones. 


71% Nicaragua: 

Complex, strong hints of liquorice and lemon sherbet. Cherry and berry tones.




40% Madagascar, Cashew Milk:  Non-dairy "milk" chocolate made with cashew nuts. Sweet, chocolatey and creamy, with soft nutty tones. A great milk chocolate alternative. Contains nuts.
Each pack contains 2 bars.
Pack size: 120 x 50 x 10 mm, weight 56 g. In compostable packaging.
Vegan, dairy free, *Denotes organic. 
Allergen in bold
Multi-buy options available, discounts from 4 to 13% depending on the number of packs you buy.  Free UK standard delivery when buying 4 packs or more.
Buying more than one pack and want more than one flavour? 
Please choose the number of packs first, then your first flavour from the drop-down menu. Please list the rest of the flavours in the "Message" section below it.
DELIVERY & RETURNS
Learn how to edit the text in this section by looking at your theme's notes section.