Tasting Box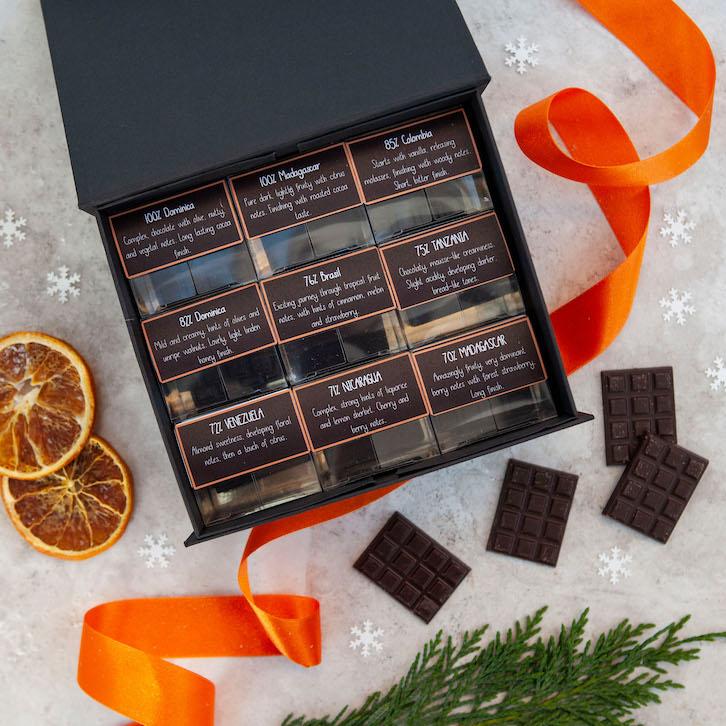 Tasting Box
Discover the delicious and complex world of dark chocolates with this carefully chosen dark chocolate selection. 
Your tasting box contains tasters of 9 different kinds of chocolates from different growing regions, they also represent different strengths (% cacao content) from 100 to 70%:
Madagascar, 100%

Dominica, 100%

Colombia, 85%

Dominica, 82%

Brasil, 76%

Tanzania, 75%

Venezuela, 72%

Nicaragua, 71%

Madagascar, 70%
The box includes a guide to chocolate tasting, and description of the chocolates included in your gift box. Fun, delicious, informative. Great to share with your family and friends.
 All chocolates are dairy free and suitable for Vegans.
Ingredients:  Cocoa mass, cocoa butter, cane sugar. Colombia and Venezuela chocolates contain soya lecithin.
DELIVERY & RETURNS
Learn how to edit the text in this section by looking at your theme's notes section.